This trip takes a route that connects Maumere (the largest town in the end of east Flores Island) and Karabahi Bay (Alor Island in the end of East Nusa Tenggara State) .
This trip passes through the northern Banda Sea (Western Pacific) route and passes through the south sub-sea (connected with the Indian Ocean).
This area has different underwater landscapes, biological layers, and in addition, there are wide dive site connecting both sea with the straits in the area around Alor. And there are many macro dive sites boasting a variety of biological layers as much as Lembeh.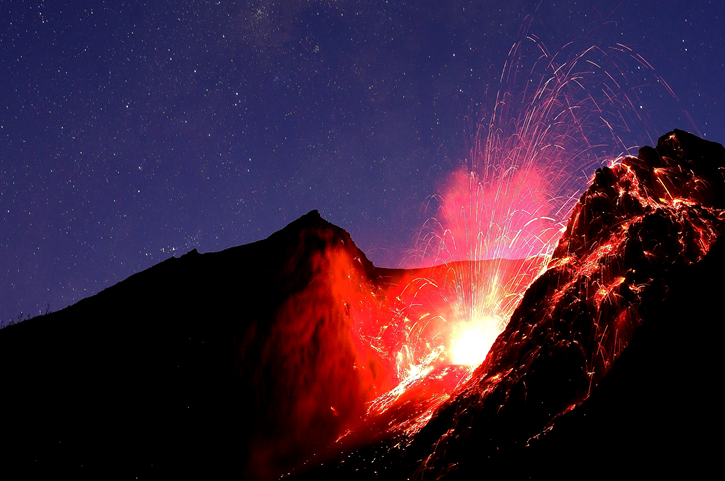 To the ocean volcano's island (Komba)

Dramatic ocean in the Banda Sea
 Mount Batutara that still moving actively is in the Komba Island located in the Banda Sea on the northern coast of the Lenbata Island in East Nusa Tenggara Province ( about 50km from Flores island) . This active volcano's Island that rises from the bottom of 3,000 meters is still active as it is located between Australia and Sunda Plate. The underwater landscape consists of walls that stand out from the deep in volcanic activity and it is a very beautiful underwater landscape with coral shining in the rocks and roots of the black volcano.
To the ocean of Sperm Whale Fishing village (Lamarera)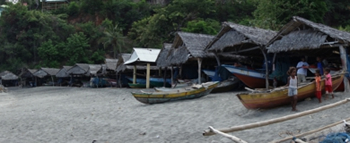 Traditional fishing with Tempuling (long bamboo bar)
 In the Lamarera village facing the subsea connected to the Indian Ocean south of Lenbatta Island in the East Nusa Tenggara Province, Sperm Whale Fishing is still carried out with traditional way with Tempuling (long bamboo bar)
However, Sperm Whales are caught several times a year, so in this village Dolphins, Killer Whales, Manta Rays etc. are also subject to hunting as a valuable protein source.
The underwater landscape consists of roots or slopes and reefs, many fish in the Indian Ocean can be seen. If you are lucky, you can see whales and dolphins not only on the surface but also underwater.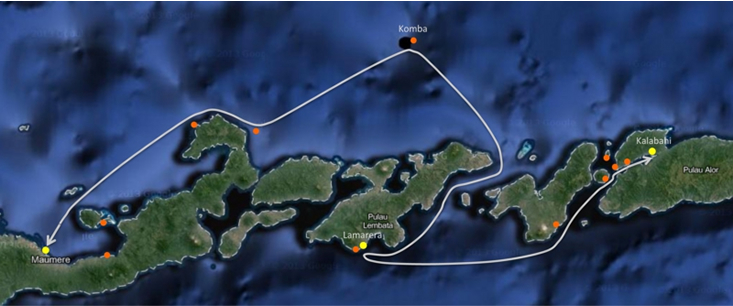 North East dive site where the wall continues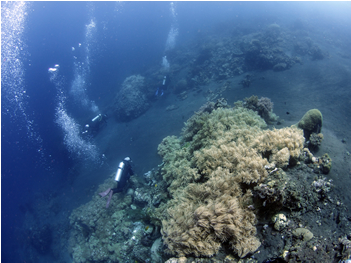 Because the northeastern dive site in Maumere is facing the Banda Sea, it has very good visibility, fan coral and tree soft coral are very beautiful, anteias also swarm on the wall of the cape. We will dive to blue water where we can see Yellow Dash Fusiler , Banana Fusiler, Gray Reef Shark and Black Chip Reef Shark, Giant Trevally and Blue fin trevally.
Beautiful PantarAlor strait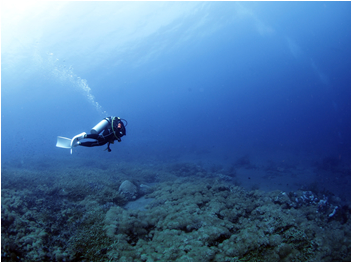 PantarAlor Strait connecting the north and south between Pantar Island and Arol Island is an area where Banda Sea facing to West Pacific Ocean and Savu Sea facing to Indian Ocean are mixed.
The wall is covered with a very vivid and bright soft coral. However, the bottom depth is about 50 m and we have to pay attention that.
Beautiful World of Basslet

We can see mostly Basslet on these rote as below;
Lyretail basslet, Fairy basslet、Purple queen, Red-cheeked fairy basslet, Pink basslet, Lori's basslet and Scribbled basslet. Especially Lori's basslet and Scribbled basllet often swim together, they are very beautiful basslet and we can see them around 20m depth.
Savu sea through the Indian Ocean, Sea of Sperm Whale fishing village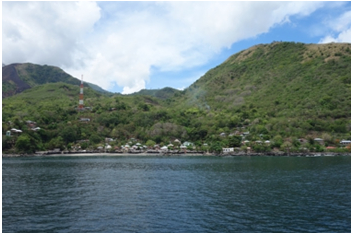 In Savu sea facing to Indian Ocean, many mammals live because of its rich nutrients. In this Ramarera village Sperm Whale Fishing is still carried out with traditional way (with Tempuling).
Whale, Killer whale, Dolphin, swim at blue water and you can see Tunicate, Sponge, and benthos creatures at underwater. This dive site consists with plenty of big rock and reef.
We can see fishes in this area are as below;
Yellow dash fusiler, Yellow back fusiler, Napoleon fish, Baffalo fish, Yellow ribbon sweetlips, Oriental sweetlips, Velvet surgeonfish, Vagabond butterflyfish, Blackened butterflyfish, Phantom angelfish, Yellow-dotted butterflyfish, Gunther's butterflyfish, Lyre- tail basslet, Pink basslet, Luzon basslet, Blue face tilefish, Ghost pipfish, etc
Rustic children living with these nature Islands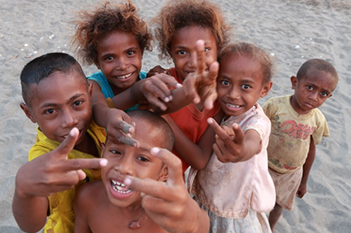 Each island has a village and people fish only for what they eat a day in their village.
Children in such villages are cheerful and take the sea as a playground, and if they find a diver they will come with swimming.
We can see these rustic children in this villages and this is one of the charms of our special trip.
Unspoiled ocean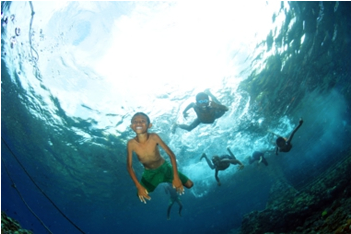 Maumere – Banda sea – Savu sea – Alor
 The area facing the Banda Sea has good visibility and water temperature is stable.
It is because it is in this ocean width , and the average depth is said to be around 4,000 m. (It is said that the deepest part of the eastern part of the ocean is over 6,000 m) Many walls standing out from the depths are also seen at dive site. Although the seawater temperature is remarkable because there is Sunda trench there, we can see Sperm whale, Mammalian and Killer whale at deep underwater. It is said that the encounter rate with whales and dolphins in water is high in diving in the Savu sea. (We could see a Whale on the water surface at the trip on November 2013, and we could see Dolphins under the water.) Because fishing in these areas is due to fish basket, hand-harpoon, fishing, etc., the conditon of ocean is still keeped with unspoiled.
Batu Tara volcano still erupting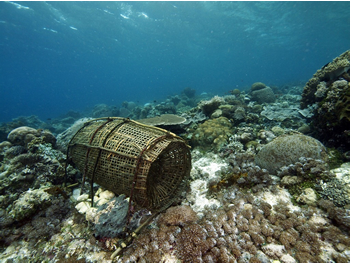 When I looked around as if I could hear a jet-like thing passing through an airplane nearby, I saw a crater that blows up a plume. At Komba Island which can see the magma and fire pillar raised several times a day, we can see vivid color soft and hard coral, the underwater landscape consist of volcanic ash and reef of lava and walls. Many fish live around the coral, and you can enjoy beautiful underwater landscape. You can be also surprised with many Purple fire goby.
Wide dive site at Alor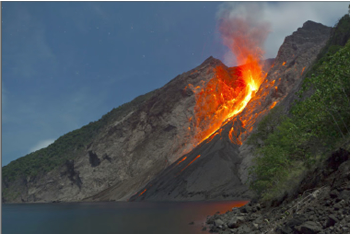 The most popular dive site as wide area at Alor is " Dream Land". This dive site is in Komba Island consist of the reef like sea mount raising from the bottom.
This dive site is located in the middle of the PantarAlor Strait and is the most susceptible to the influence of current, and it is difficult to judge the timing for diving.
We can see fishes as below;
Napoleon fish, Yellow ribbon sweetlips (30m depth), Rainbow runner, Surgeonfish, Bigeye Trevally, Batfish, Dogtooth tuna, Giant trevally, Bluefin trevally, Needlescaled queenfish etc.
Macro dive site equal Lembeh & Ambon

The popular dive site as macro in Indonesia is Lembeh and Ambon, however the dive site at Alor bay and south area at Pantar Island are also the exciting area.This area makes the diver who are not interested in macro creatures before enjoy diving. Especially at night diving you can see many unique aquatic creatures. If you like macros definitely, it must come one of your best macro dive site. We can arrange the time to dive as you like.Come on join us!
Beautiful Ocean with unspoiled coral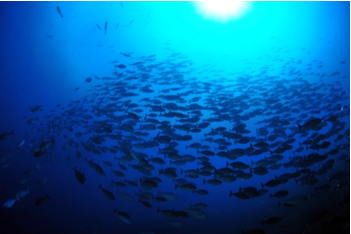 You must be surprised with the beautiful corals which are in different type of sea nutrients between Savu sea and Banda sea.
Booking

Booking from this form. We will get back to you after we confirm that.
※Required