Komodo Islands
The Komodo Islands is the savanna climate in Indonesia and the view of the ocean is a unique landscape similar to La Paz.
There are 100 small islands spreading within 50 km and you can dive at many dive site in Komodo Islands.
The Komodo Islands is an area where certified of the World National Heritage Site and Quasi-National Park due to the unique landscape, environment and aquatic creatures including Komodo Dragon.
Komodo Ocean

① North area: warm seawater temperature and good visibility. You can see school of fish and hunting of migratory fish.
 [average sea water temperature; 29 ℃ average visibility; 23 m]
② South area: Treasure of benthos creatures by the influence of deep water and also Manta ray gathers.
 [average sea water temperature; 24℃ average visibility;14 m]
③ Central area: Mixed area of two different ocean (North & South) and also you can see many kinds of fish and coral.
  [average sea water temperature; 27 ℃ average visibility;18 m]
Can join to the trip with 6days from your country

local time table
 Reference; 6Days package(4Days3Nights; 7 or 8 dives)
Meal
Day1
Pick up at Labuhan Bajo airport (90min from Bali) in the morning; 2 Boat dive, go to hotel
Lunch
Day2
Pick up at hotel ; 3 Boat dive, back to hotel
Breakfast & Lunch
Day3
Pick up at hotel ; 2 or 3 Boat dive, Trekking for watching Komodo Dragon, back to hotel
Breakfast & Lunch
Day4
Pick up at hotel; site seeing (Batu Cermin, Pasar, Town), go to airport, back to Bali
Breakfast
【Attention】Depends on the flight time on Day4, the number of diving on Day3 will be change.
※For more information, please contact us.  (info@dive-dream-indonesia.com)
【Inclusive】
l Transfer from the arrival date to the departure date at Labuhan Bajo (within schedule)
l Diving fee and boat fee for 3days
l Diving guide fee
l Accommodation (share room + 1 single rate)
l Entrance fee at Komodo Island or Rinca Island for trekking
l Meal on the above schedule (breakfast×3, Lunch×3)
【Exclusive】 Flight ticket from your country to Labuhan Bajo , Accommodation at Bali , Entrance fee for diving(above schedule; 60USD/pax) , Dinner and transfer belongs to dinner
【Local problems】There are many local diving boats with cheap price at Komodo, however they are not so comfortable, lack of safety and take lot of time to get to the dive site.
And we also hear that many problems occurs between guests and freelance dive guide due to their no sense responsibility.
【Our speed boat ARK1】With clean toilet, Shower, comfortable relax space!!
▶︎ We select the best dive site include South area in Komodo Ocean.
▶︎ With charter not sharing
▶︎ Our speed boat ARK1 has good engine and use time effectively to move between dive site.
▶︎ Our dive guide who has much experience take you to best dive site with safty.
Access from your country to Komodo Islands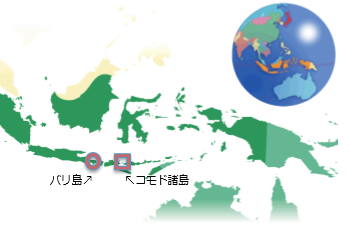 Departure day: Your country -> PM Bali, stay at Bali
Day 1: AM Bali → AM Labuhan Bajo (nearest harbor in Komodo) (✈90 minutes)
Last Day: AM or PM Labuhan Bajo → Bali (✈90 min) → back to your country
Garuda Indonesia Airline

Garuda Airlines flights from your country to Labuhan Bajo airport nearest harbor to Komodo Islands.
Although stay 1 night in Bali, luggage weight is also given preferential treatment to some extent, price of air ticket is also reasonable and you can put your luggage directly from Labuhan Bajo to your country. It is very convenient.
Our New Speed Boat "ARK1"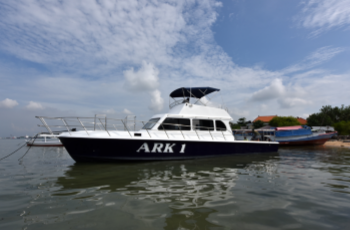 ARK1 start in 2017, it is very comfortable to stay during day trip. With fresh water, clean toilet, emergency oxygen tank, AED, radios, GPS, fish radar.
We set anti slip finishing and safety rail at each deck for your safety.
Overall length 13 m, Beam 3 m, Engine SUZUKI 250 HPX 2, Cruising speed (maximum) 35 Knot, Capacity (maximum) 15 pax