Cendrawasih Bay is large bay at north west in New Guinea Island (Irian Jaya), it faces to Pacific Ocean.This bay is very large (about 220 km×150 km), and the entrance of the bay is connected with large several Islands like a lid (such as Biak Island, Yapen Island) .This bay is so wide that it is also an area susceptible to wind (seasonal wind and low pressure).This area is a tropical rainforest climate closer to the equator and it rains a lot throughout the year. On the Islands of New Guinea and the Bay, you can see beautiful islands covered with green jungle.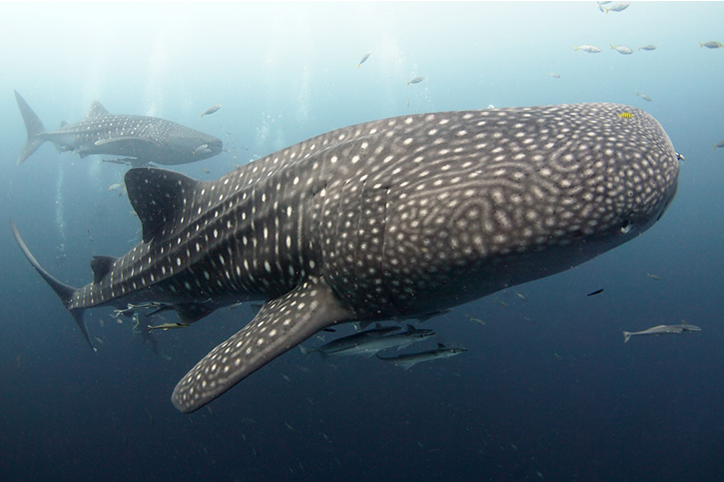 Whale Shark
(Binomial name; Rhincodon typus)
International Union for Conservation of Nature and Natural Resources (IUCN) : Critically endangered
The Bay Whale Shark are breeding ?
As there are many Whale Shark gathered here in the Bay of Cendrawasih, it has been said that "Whale Sharks are breeding in this bay?" However, according to Dr. Tania of WWF who leads the study of the whale shark, currently they have checked more than 50 Whale Sharks gathered in Bagan (local floating hut with fish net) in Cendrawasih , of which only 2 females is.This is generally believed that the reason why the Whale Shark gathers is that most young males of the whale shark (3-8 m) are gathering for bait, and in fact females, children and adults rarely are not seen.At other areas (Ningaloo in Australia, Donsol in the Philippines, Baja California Peninsula) , Whale Shark gather during the season when fish lay egg and huge outbreak of plankton start.It is said that the same reason is also considered here in Cendrawasih Bayi and the existence of Bagan is also one of reason.However, there are also documents that there are 5 females currently pregnant in Baja California. Actually, it is unknown whether they are mating or giving birth, but it is necessary to continue detailed investigation that Cendrawasih Bay is a place of copulation and birth. Moreover, the ecology of the Whale Shark is still unknown in many cases, and still Conservation International and the World Nature Conservation Fund (WWF) attached the GPS (radio tag) to the Whale Shark, etc. for elucidating their ecology.
What is Cendrawasih?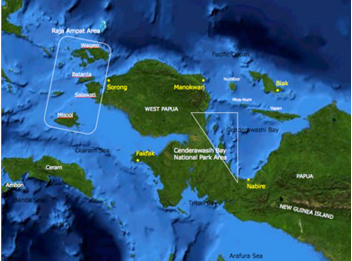 Cendrawasih means "bird of paradise" in Indonesia, as known that here is the area where bird of paradise lives. However the watching tour like Raja Ampat Liveaboard is not available on this Cendrawasih liveaboard because there is no space the people can watching them.
Rote and dive site
Cendrawasih Liveaboard start from Manokwari or Bima. Sometimes we go back to same bay and this will be changed every trip or every year.
We will dive mostly at Cendrawasih Bay and protect area as National Park area, we go through east side of Cendrawasih Bay. (You can see various aquatic creatures at various dive site.)
Treasure trove of endemic species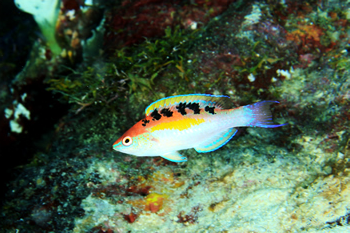 At Cendrawasih Bay where it is said "Galapagos of Indonesia" from scholar, you can see endemic species and endemic color species.There are many endemic species at Cendrawasih, you can also see "Cendrawasih Walking Shark" which is said to be the sister kind of Walking Shark at Raja Ampat.In addition, the male of "Walton's flasher wrasse (endemic species) "seen only in a part of Cendrawasih Bay is very beautiful and "Price's damsel" is also very beautiful of turquoise blue. And you can see many other unique endemic species.Furthermore, "Burgess' butterflyfish" and "white spot damsel" with "Cendrawasih color" make you be surprised
War's legacy at Manokwari (Part 1)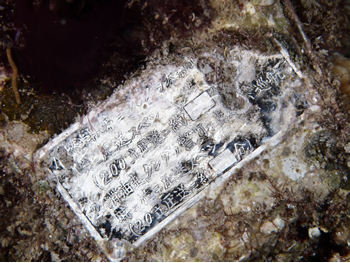 During the World War II this area is a place where we fought a fierce battle with the Allied Army as the absolute defense zone of Japan and the Japanese army vessel are sinking at two wreck dive site in Manokwari.One vessel was a large cargo (you could see a tank-type machine car underwater), and one vessel was a small cargo. This vessel was used from 1912 until 1945. You can see beer bottles of Japanese brands (there is a stamp of katakana and kanji) and bullets of firearms.
War's legacy at Manokwari (Part 2)
The majority of the body part of the ship, which is 15 meters deep, has been pulled up and you can see the cockpit and the main wing now.
You can also read the engraved plate of Japanese (katakana and kanji) at that time next to the spare fuel tank lever on the right side of the cockpit.
We can see Whale Shark at diving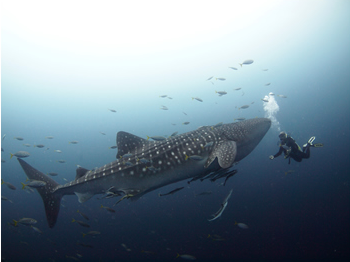 Whale shark gathering in Bagan usually gathers 4 to 5 animals, nearly 10 gathers.The place where this Whale Shark can be seen with relax and slowly at diving is a very precious place.
Especially the new moon is the best time, but the visibility is not so good due to the influence of plankton, but it will be better at more deep area.Not only Whale Shark but Dogtooth tuna, Spanish mackerel, Bigeye trevally, Bluefin trevally you can see. If you a lucky you can see Dolphin, Sailfish.
Underwater landscape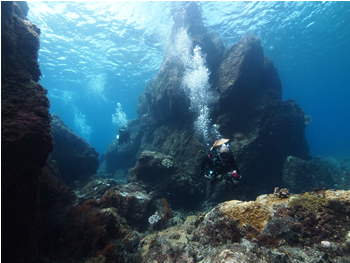 You can dive at slop, drop off, wall and overhang. You can see coral with good condition even if there are not so many kinds of coral there, here is the place many fishes gathers.
Surprise guest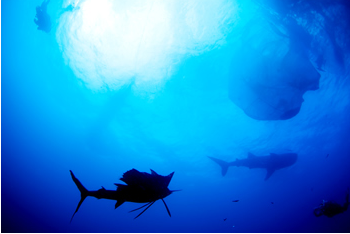 You also have chance to see Sailfish and Dolphin.
Booking
Booking from this form. We will get back to you after we confirm that.
※Required