The beach around Saubeba village in West Papua is a big spawning area of Leatherback Turtle, and thousands of Leatherback Turtles land from April to September for laying eggs. Currently the beaches where they land are mainly three, and in some places of beaches, Papua State University and WWF Indonesia have set up Leatherback Turtles monitoring camps and are engaged in protection and observation with local villagers.
These places are now protected areas ahead of other beaches in the Pacific Ocean, and we are trying to coexist with the people in this village protecting the Leatherback Turtles.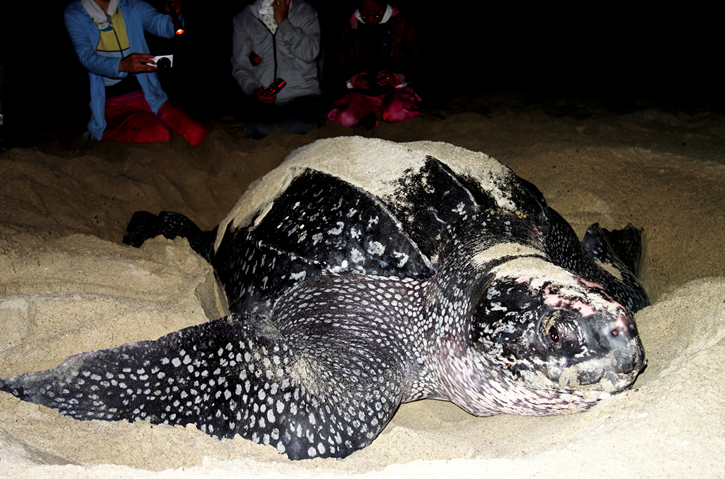 Leatherback Turtle
(Binomial name; Dermochelys coriacea)
International Union for Conservation of Nature and Natural Resources (IUCN) : Critically endangered (CR)
What's Leatherback Turtle?
Leatherback Turtle is the largest turtle on the earth, growing to more than 2 meters and more than 900 kilograms. It is said that Leatherback Turtle live from billions of years ago, it is said to be the Turtle that survived at age of the dinosaurs. It is currently dangerous to be extinct due to changing of ocean condition, to be captured as villagers' foods, to sell as traditional Chinese medicine, and to hang on the net of trawlers. Many part of the ecology of this Leatherback Turtle is still unknown because they moves a long distance. Observations were made when the Leatherback Turtle landed on laying eggs, and after the egg laying, the transmitter was attached and the migration route was investigated. As a result, 100 eggs were born at one time and, some of females land to beach several times par a season for laying eggs. The migration route is a long distance and there are also some Leatherback Turtles that move to West Coast of USA, Philippines and Japan. Some of them do not return for 2 ~4years after going out, Leatherback Turtle are still mysterious creatures.
Bird's Head Seascape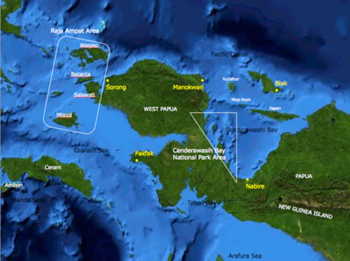 The area called Bird's Head
 Bird's Head is the area written West Papua on the map. This means the shape of this land looks like a head of bird. The west side faces to Raja Ampat and east side faces to Cendrawasih Bay and Triton Bay and this area is the treasures trove of aquatic creatures and endemic species.
Route and Dive site
We take the route from Sorong to Raja Ampat and we spend 1 or 2 days there. After that we are going to the area of Leatherback Turtle for 2 days and then move to Manokwari.
This is the one trip schedule and we will be back from Manokwari to Sorong with one more trip. The dive site are Raja Ampat area, Leatherback Turtle area and Manokwari area where you can see many kinds of dive site. This special trip will hold a few times per a year.
Leatherback Turtle Beach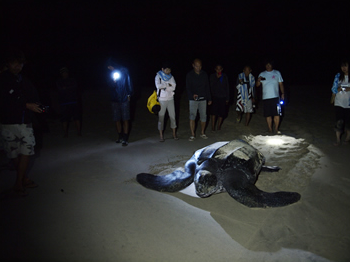 The endangered species and biggest all over the world. It is also said that the survival of age of the dinosaurs. We are going to go to the beach for watching the egg laying of Leatherback Turtles. We almost cannot see them underwater, however we can see the egg laying here. They lay egg in midnight so we have to spend the time over the night on the beach. We will start from for searching Leatherback Turtles, it is very important to be careful not to turn on the any torch we will follow to ranger of village because Leatherback Turtle is very delicate.
It is also important to use only red light and not to shed light to the eyes of them during watching them.
War's legacy at Manokwari (Part 1)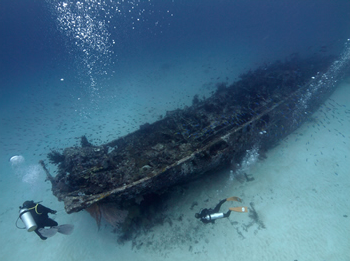 There are many Japanese vessels sunk by the World War II bombing around Manokwari.
Currently we can dive at 2 wreck dive sites, one of vessels is laying from 12m to 25m depth.The bottle of Japanese beer (using 1912-1945) have been found. The label was written in Japanese. It is thought that this vessel is a Japanese one.Bullets are also found from inside the vessel. This vessel keeps the original shape and many kinds of fish gathers.
War's legacy at Manokwari (Part 2)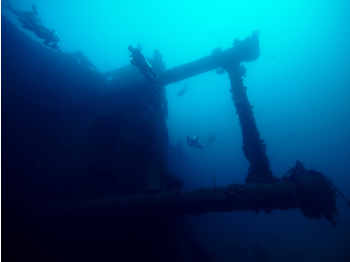 Another vessel is "Shinwamaru" which is big transport vessel (3,328tons).
At 11:20 on November 21, 1943, under the aircraft bombardment of the Allied forces during the landing operation, the vessel was squatting and sinking. This bombing took 4crews, 9 securities and 2crews lives. It is said to be able to see the working vehicle inside the vessel and still leave many loads now. This vessel is big and top is 8m and bottom is 34m, the bottom is muddy, depends on sea condition, the visibility will getting change we have to be careful.
Diving at beach where Leatherback Turtle comes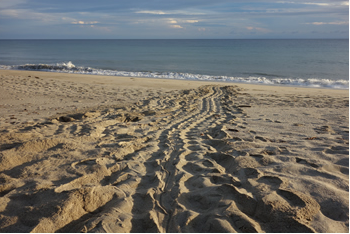 We will do long shoal dive at beach where Leatherback Turtle came for laying egg. A few aquatic creatures are there, however some of our guests could see Leatherback Turtle underwater! They can swim very quickly (±25km) with their big pectoral fins. Sometimes we can see the egg at the bottom coming from beach side.
What kind of aquatic creatures we can see?
We will dive at Raja Ampat for 2days, at Manokwari for 2days and at Leatherback Turtle area for 2days. We can see different type of aquatic creatures at each area, it will be the good chance for enjoying.
We can see endemic species as below;
Batanta Dottyback (endemic species / Raja Ampat area), Raja epaulet shark (Raja Ampat), Cendrawasih fairy wrasse (Cendrawasih), Walton's flasher wrasse (Cendrawasih), Caitlin's dottyback (Cendrawasih) etc
Booking
Booking from this form. We will get back to you after we confirm that.
※Required